Sarah arrives for her baby's 1-month well-child checkup hoping for the best. Carlie, her daughter, was born prematurely and has not been eating very much over the last few weeks.

The COVID-19 pandemic is just starting to unfold around them, and the office is quieter than normal as many staff work from home or have reduced their schedules. The doctor's office is the last place Sarah wants to be as a mysterious new disease takes hold of the world, but it is the one place where she can get answers.
Sarah provides child care at her home in Fort Morgan, Colorado—a rural town of large beef and sugar manufacturing plants in the northeast corner of the state. Her husband runs his own trucking company with their family, and Sarah has run her business for several years.
Sarah begins talking about Carlie's feeding habits and when she places Carlie on the scale, Dr. Prince, her pediatrician, looks worried. Because Carlie isn't gaining weight, she recommends admitting Carlie to a children's hospital 100 miles away in Aurora, Colorado. She knows this is not the news Sarah wants. To offer additional support to Sarah and Carlie, she connects Sarah with Renee, the HealthySteps Specialist and lactation consultant.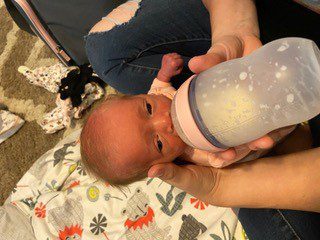 Renee reassures Sarah and offers some feeding suggestions while they wait for Dr. Prince to complete the hospital admissions process. They try several techniques and Carlie immediately sucks down her bottle. Sarah is thrilled. Her baby had not eaten like this, ever. Renee is thrilled too and rushes to find Dr. Prince, who gladly ends her call with hospital admissions. The team agrees to observe Carlie for 24 hours, and everyone is feeling optimistic as Carlie eats.

Sarah drives home, feeling a huge weight roll off her shoulders.
After several visits and Carlie's great progress, Dr. Prince and Renee spot a small challenge with Carlie's breathing, which might have contributed to her early struggle to gain weight. Eventually, Sarah and Carlie make the trip to the hospital for surgery to correct the breathing issue. Sarah, still a little uneasy about the surgery, feels better knowing she has Renee on her care team.